New methodologies for an ecosystem approach to spatial
and temporal management of fisheries and aquaculture in coastal areas (ECOAST)
COFASP - Cooperation in Fisheries, Aquaculture and Sea food Processing
ECOAST aims to identify, develop and test new methodologies for spatial and temporal management of fisheries and aquaculture in coastal areas. The overall approach will assess the impact of fisheries and aquaculture on coastal ecosystems, including essential fish habitats and conservation priority habitats, as well as synergies and conflicts between human activities.
Building on previous methodologies and experiences the project will evaluate marine spatial planning in seven coastal case study areas having different ecological and socio-economic characteristics:
Adriatic Sea (ADR),
Ionian Sea (ION),
Black Sea (BLK),
Tyrrhenian Sea (TYR),
Baltic Sea (BAL),
Norwegian Fjords (NOR),
NE Atlantic Coasts (ATL).
Objectives. The ECOAST Project main objectives:
ECOAST's general aim is to merge different approaches (ecological, social and economic) within a unified framework to provide overall information for future development of fisheries and aquaculture in coastal and marine areas, also including spatial conflicts with other users and the stakeholders' point of view. This goal will be achieved by implementing and integrating already existing models (e.g., DISPLACE, GRID, InVEST) some of which have been developed by the partners of this proposal in the framework of previous research projects.
Results and Outputs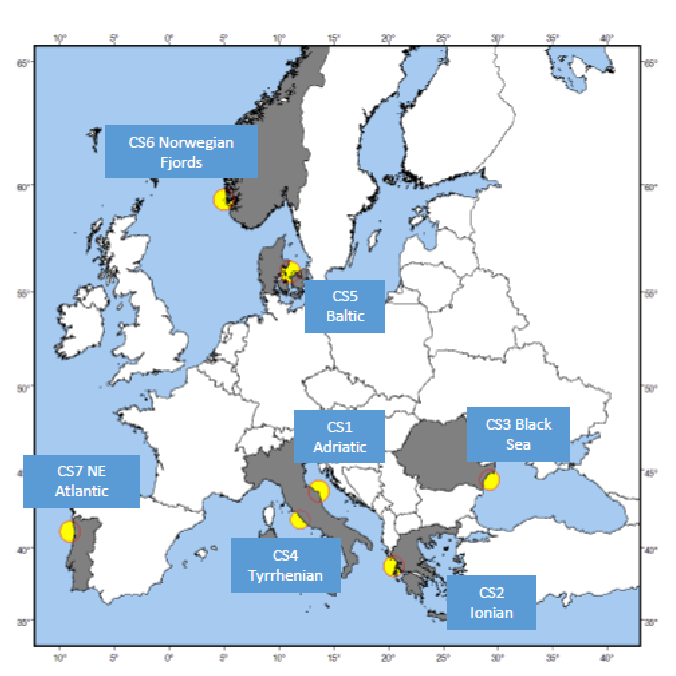 The project outcomes will produce case specific evaluation of the ecological footprints of aquaculture and fisheries in coastal areas, maps of optimal areas for fisheries and aquaculture, evaluation of compatibility between fisheries, aquaculture and other human activities in coastal areas, as well as implementation of holistic methods and an operational modelling framework to evaluate and predict stakeholder responses to coastal spatial management options covering marine cross sector occupation of space. The new methodologies will assess the impacts on the ecosystem and the socio-economic effects of some spatial management measures, as well as to spatially manage some cross sector marine activities, but also will integrate all relevant management aspects for coastal areas. The holistic methodology will cover in a single system different approaches and management aspects, identifying realistic spatial and temporal potentials and limitations for the integration of fisheries and aquaculture in coastal areas, in order to allow policy makers and stakeholders to evaluate management measures and share decisions in a transparent manner on case specific basis.
ECOAST results will support the EU and national policies through the provision of tools and data for an ecosystem based allocation of space and sustainable use of marine resources in coastal areas on case specific basis.
Core project team:
ISMAR - CNR Italia – Fabio Grati
ISPRA Italia – Giovana Marino
DTU Aqua Danemarca – Francois Bastardie
IRIS Norvegia – Thorleifur Agustson
IMR Norvegia - Eric Olsen
HCMR Grecia – Vasiliki Vassiopolu
INCDM Romania - Laura Alexandrov
ICBAS Portugalia – Luis Vieira

Reports:
2016 Financial Report (ROMANIAN only)
Annex 2 ECOAST kick-off meeting, Ancona (Italy), 4-6 April 2016
Annex 10 GRID Data List
Annex 11 GRID Method Black Sea Case Study. Results (ROMANAN only)
Annex 15 DISPLACE Method Black Sea Case Study. Results (ROMANIAN only)
2017
Anexa 5.13 Studiu de caz - GRID romania
Anexa 5.16 ECOAST Aquaculture
Anexa 5.5 Legislatie spatiu marin
Anexa 5.7 ECOAST Deliverable 5 (2 Nov 2017)
COFASP 45 ECOAST INCDM - Raportare tehnico-stiintifica faza I 2017
2018
COFASP 45 ECOAST INCDM - Raportare tehnico-stiintifica 2018
2019
COFASP 45 ECOAST INCDM - Raportare tehnico-stiintifica 2019